Don Quixote: is this a cautionary tale for drplasticpicker?
November 25, 2019
November 25, 2019
by drplasticpicker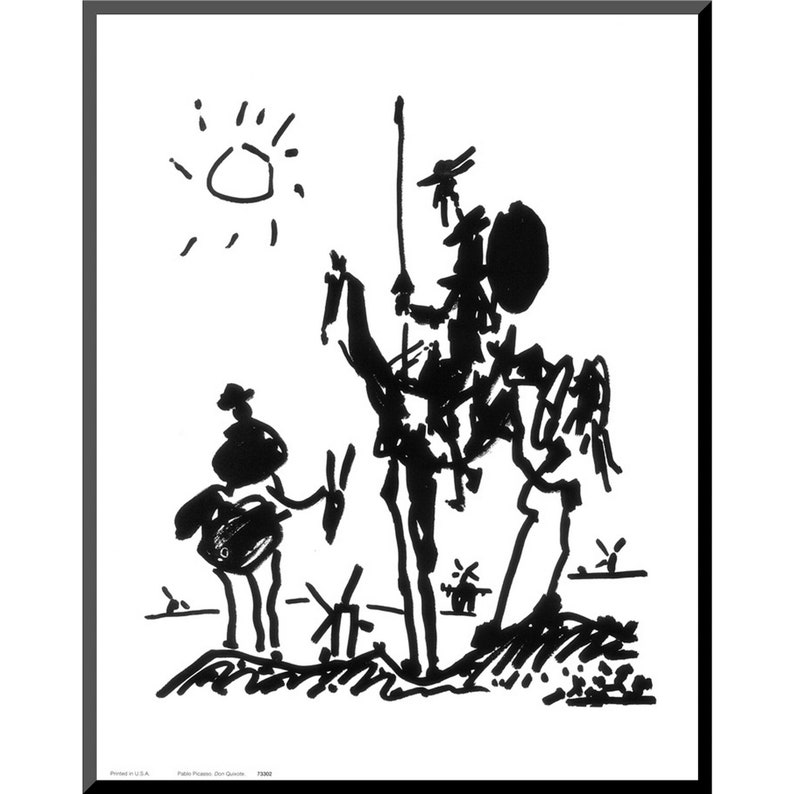 Don Quixote is one of Mr. Plastic Picker's favorite novels. Mr. Plastic Picker was a short story writer during his high-school and college years, and studied Shakespeare as his major while doing premed. I have always known that this picture by Picasso was his favorite. I have not read Don Quixote (it is next on my list now), but I have read The Three Musketeers by Alexander Dumas and Huckleberry Finn by Mark Twain who are part of that literary tradition.
Don Quixote (paraphrased from Wikipedia) introduces the nobleman Alonso Quixano, "who has read so many chivalric romances that he loses his mind and decides to become a knight-errant to revive chivalry and service his nation, under the name Don Quixote de la Mancha." He recruits Sancho Panza and together they go off "tilting at windmills," which some would say "attacking imaginary enemies or an act of extreme idealism." https://en.wikipedia.org/wiki/Don_Quixote
I have alternatively been hopeful and despondent during this journey. I have always been externally the opposite of Don Quixote, ever practical in my choices in life. But I know in my heart I am a romantic. I studied history in college, but as a child and teenager was a great reader. I still am amazed that I read all of Jane Austen, Emily Bronte, George Elliot, E.M. Forester, Charles Dickens, Alexander Dumas, and on and on.
With that, I was discouraged last evening and venting my frustrations by cleaning my own yard and making episodic observational outbursts to Mr. Plastic Picker. Sweep. "How can I expect people to clean the ocean, when they don't even clean their own houses?" Sweep sweep. "People don't even scrub their own toilets these days." Sweep sweep. "Remember how our former student hired a cleaning service for their small apartment when they hardly had any money and no kids yet? Are people that busy?" Sweep sweep. "Look how successful my parents are, yet my dad still cleans." Gathering the leaves in a dustbin. "Remember that cruise? All those poor workers from overseas being paid nothing to serve us all day. " Dump the leaves in the receptable. "People didn't even really see them. We don't even value human life, how can we get people to value the earth?" Sweep sweep. "I don't know if anyone is even reading the blog. I'm writing things and it evaporates into the ether." I gently shoo our black puppy away from the dusty new area I'm tackling.
These thoughts sometime race through my mind while I am at the beach picking up ocean plastic pollution. Entire cultures have enslaved other cultures because they don't want to clean. Mothers in poor countries, hand over their children to relatives to raise – as they travel to healthier oil rich countries to work as nannies and domestic workers because people don't want to clean and cook. Sometimes I do feel like El ingenioso hidalgo Don Quijote de la Mancha tilting at windmills. But I see the plastic, and I have to pick it up. I see what the children see, an existential crisis and mass extinction and becoming drplasticpicker is my act of desperation.
Now I know why I was despondent yesterday. It was an offhand Facebook message reply. There were undergraduate climate protestors at the annual Harvard-Yale football game, who stalled the game for an hour calling on Harvard and Yale to divest from fossil fuels. A few friends posted pictures from the alumni section of happy-wealthy 40-year-olds reliving their college years. They also expressed slight annoyance that the second half of the game was delayed for an hour by these undergraduate climate protestors.
So here I go drplasticpicker. It is 518am and I'll work on another blogpost and go to the beach at about 6am. As I was finishing cleaning the backyard yesterday and it was getting dark, I said to Mr. Plastic Picker. "Do people think I'm joking? Why would I waste my time picking up trash on the beach and blogging, if this was not important? The whole world wants to go partying and retire early. Well guess what? I'm going to keep on working and donate my entire income to the Rainforest. This is how important it is. $150 to the Rainforest trust with our HMO's matching and the SAVES campaign matching will end up being $450 and will perserve 1200 acres at $0.35 per acre of coastline, mangroove forests, and habitat for mutliple marine animals on the Ivory Coast by creating a Marine Protected Area." https://www.rainforesttrust.org/projects/ivory-coast-leatherback-turtles/
So that is what keeps me going. Knowing that come December 1, the children and I will get to decide where we donate for the month and how many acres we can save. But the act of cleaning up the beach and picking up ocean plastic is important too. Mr. Plastic Picker is this silent observer in my whole story. I'm not sure if he is Sancho Panza or is he the author Miguel de Cervantes? Well I will read this book now, one of the founding works of Western Literature which I somehow missed. And I will finally buy Mr. Plastic Picker a beautiful print of his favorite Picasso piece that I've been meaning to buy him for the last 20 years.
Drplasticpicker heading off to the beach now, to go charging at my imaginary windmills.